Construction Cycle and Quality Controls for Training Transfer Evaluations in Lifelong Learning Programs in Quebec and Switzerland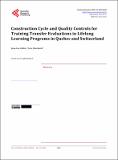 Auteur, co-auteurs
Type de référence
Périodiques scientifiques et professionnels :: Article publié dans une revue scientifique
Date
2022-11
Langue de la référence
Anglais
Entité(s) de recherche
Résumé
The Construction Cycle and Quality Controls for Training Transfer Evaluations (CCQCTTE) is an assessment method that results of collaboration between University of Quebec in Montreal (UQAM) Canada and the University of Teacher Education of State of Vaud (HEP Vaud) Switzerland. The main objective of CCQCTTE project is to design and field test a method for building high quality training transfer assessments (level 3 of Kirkpatrick's model). In relation with this goal, we defined five sub-objectives: easy way of use; implementation of best practices; cyclical quality approach; taking into account of transfer factors; diagnostic feedbacks. CCQCTTE consists of eight steps: (1) analysis of the training objectives and of the factors influencing the transfer; (2) assessment design; (3) items writing; (4) information about the assessment; (5) collection of transfer data; (6) processing of results; (7) feedbacks and (8) macro-regulation. The end product of the first step is a table of specifications and a list of transfer factors. Once the evaluation plan is defined in step two, we can move on to step three of item development. During the fourth step, all the stakeholders are informed. During step five data collection takes place in the training environment and in the workplace. Data are processed to extract information during step six. The seventh step concerns elaboration and sending of personalized feedback to the trainees and the stakeholders. Finally, the eighth and final step is a "macro-regulation" that consists of learning from all the previous steps in order to improve future transfer assessments cycles. During the first-year, we made a preliminary field testing and the second-year, a series of main field tests of the CCQCTTE. During the third year, the method was implemented in Montreal and in Lausanne. The three years international CCQCTTE project has made it possible to develop the method during construction of several transfer assessments for lifelong training programs. We highlighted a real added value of step 8 that transforms the cycle in a kind of spiral of quality. In terms of limitation, we note that step 1 "Analysis" remains time-consuming and that it is difficult to start without the accompaniment of an experienced expert of the CCQCTTE. As part of this paper, we will describe the CCQCTTE method and its quality approach, the circumstances in which it was developed and field tests results.
Maison d'édition
Scientific Research Publishing
Pays d'édition
Etats-Unis
p-ISSN
2151-4755
e-ISSN
2151-4771
Evaluation par les pairs (peer reviewing)
oui
Portée nationale / internationale
internationale
Volume / tome
13
Pagination
3533-3558
Commentaire lié à la publication
Scientific Research Publishing (SCIRP) is one of the largest Open Access journal publishers. It is currently publishing more than 200 open access, online, peer-reviewed journals covering a wide range of academic disciplines. SCIRP serves the worldwide academic communities and contributes to the progress and application of science with its publication. The Paper will be published online (Gold Open Access) in October 2022.
La publication existe uniquement sous forme électronique
oui
Document(s) associé(s) à la référence
Texte intégral :
Ouvert
Version publiée en Open Access et accessible en ligne sur le site de la revue internationale Creative Education
postprint éditeur
2.017Mo