Educational support in an inclusive setting: An exploratory study of social-emotional effects on targeted pupils and their peers.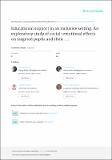 Auteur, co-auteurs
Type de référence
Colloques et congrès scientifiques :: Communication orale non publiée
Date
2014-07-08
Langue de la référence
Anglais
Entité(s) de recherche
Résumé
Current educational policies aim at allowing all children to receive adequate instruction in the regular classroom. In times when different inclusive educational models are being experimented, research needs to evaluate their advantages and disadvantages for the targeted pupils and their peers. This study was conducted in the context of the ongoing evaluation of a schoolwide in-class educational support initiative. It aims at exploring differences in self-concept and social status between pupils receiving educational support in the regular classroom and their peers. One hundred and nine 3rd grade pupils (corresponding to CE2), of which 36 received support, completed three questionnaires evaluating self-concept (academic, social, and attitude toward school), social integration, and perceptions of classroom climate. Data was collected at the beginning and end of the 2010-2011 school year. Results indicate that the academic self-concept of targeted pupils is significantly lower than that of their peers, over both measurement points. There is no change on the social self-concept of targeted pupils, but their attitude toward school significantly increases during the year, whereas that of their peers' decreases. The evolution of the targeted pupils' sociometric status is positive, while their perceived status (whether the pupil believes he is appreciated or not by her/his peers) is stable during the year. Classroom climate tends to significantly decrease for all pupils during the year. To sum up, results indicate that educational support does not seem to affect the social integration of targeted pupils. On the contrary, it may contribute to foster a positive development of their attitude toward school over the year, without affecting their peers' socialemotional experience. One would nevertheless expect an increase in the academic self-concept of targeted pupils, which was not observed. Therefore, future research needs to associate this factor with pupils' actual academic achievement growth. This exploratory study presents important limitations due to the sample size. However, with respect to the ecological context in which it was conducted, it is important to highlight that social-emotional experiences were generally positive for all pupils, particularly for those receiving in-class educational support.
Nom de la manifestation
The 28th International Congress of Applied Psychology (ICAP)
Date(s) de la manifestation
8-13 July 2014
Ville de la manifestation
Paris
Pays de la manifestation
France
Document(s) associé(s) à la référence